Yves Saint Laurent - Tient Touche Eclat Foundation Review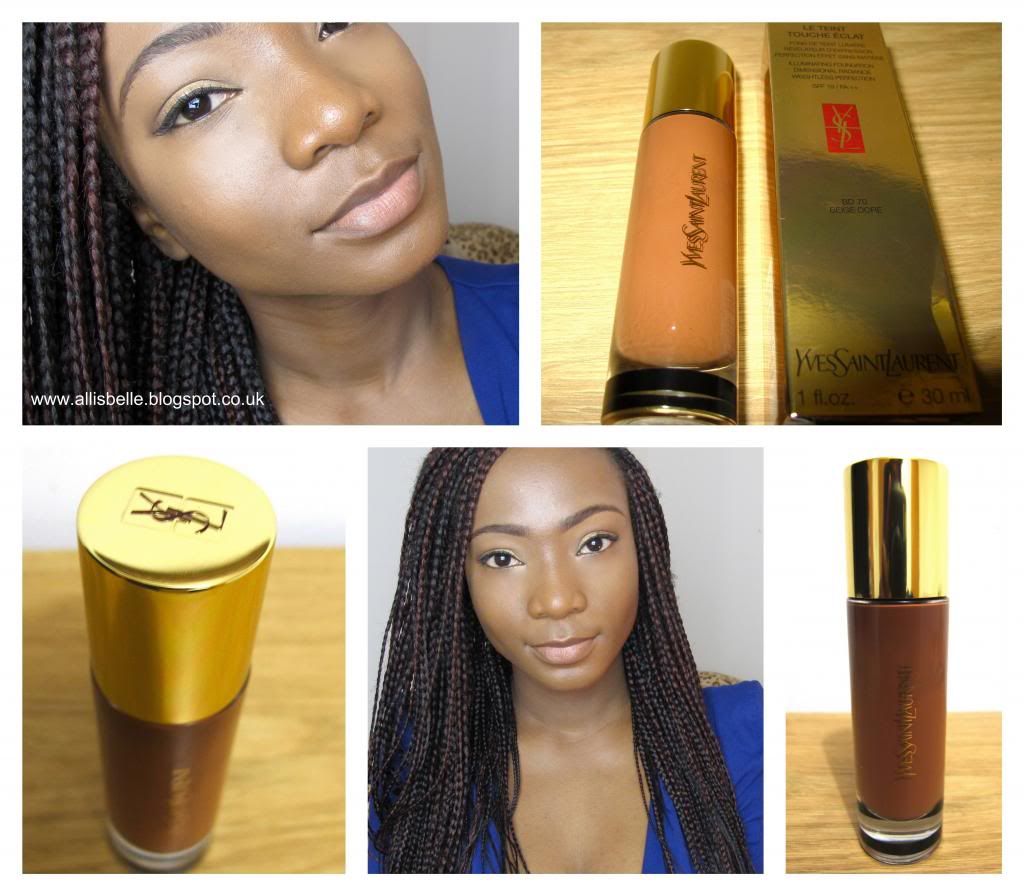 Im so excited to write this review because I seem to have found a new product to love! Yves Saint Laurent brought out a foundation version of their tremendously popular touche eclat highlighter last year and I'm excited to finally get a chance to try it out.
I went to Selfridges a couple of days ago to purchase this specifically as I'd head good things and wanted a break from my MAC match master foundation which had conveniently run out. I used it, fell in love and decided to share my own thoughts on the well known Yves Saint Laurent Teint Touche Eclat Foundation... so here we go!
Price and colour range:
At only £29, I was surprised that Touche éclat foundation is relatively affordable compared to other high end foundations. It also comes in a wide range of colours which is great for dark skinned girls like me and light skinned girls alike, I am a BD70.
Coverage:
Touche Eclat is light to medium coverage. I was initially put off by that because Im used to the full coverage of my mac match master foundation but this is really good. My skin is able to breath and it doesn't feel clogged.
Even better still?
There is no real need to use setting powder, the foundation has seems to be fine without it if it is applied using a brush. In the picture in the collage above I used NO setting powder, none at all!
Appearance:
I love the glowy look this foundation gives, and it does brighten up the face albeit subtly.
The light coverage: Although I said this is buildable, if you have blemishes you might be better off using a concealer than trying to apply this foundation more heavily. I don't like having to do too may steps in my foundation routine so that's a con unfortunately.
Application:
This is not a finger application foundation I'm afraid. Because its so light, applying using your fingers looks streaky. I apply this using my foundation brush from NYX.
Price:
Although I think this YSL Touche Eclat Foundation is affordable, not everyone might think so hence why I have listed this as a con.
I really like the Touche Eclat Foundation and would recommend it for those seeking a light to medium coverage foundation. It is also perfect for the dewy look, cant wait to try wear this in the summer!
I've worn it a couple of times and used it for my Valentine's day makeup look below. I'll be posting a tutorial on that look tomorrow :-P
xxx
Labels: beauty, foundation for dark skin, foundation review, high end foundation, mac match master foundation, makeup, ysl, ysl foundation review, YSL touche eclat foundation review