My Favorite MAC Lipsticks
Lipsticks.
Lipsticks are the crux of my makeup collection. I have have them in many shades yet I never seem to every have enough! They brighten up or tone down my look and usually make me look like I've put in more of an effort than I actually have!
Quite a few youtube viewers have asked what my favourite lipsticks are so I decided to blog about them! Mac is my favourite brand so naturally thought Id start out with my favourite mac lipsticks!
Here they are (see below for descriptions -
the video
below is also great for seeing each lipstick in motion and natural light!):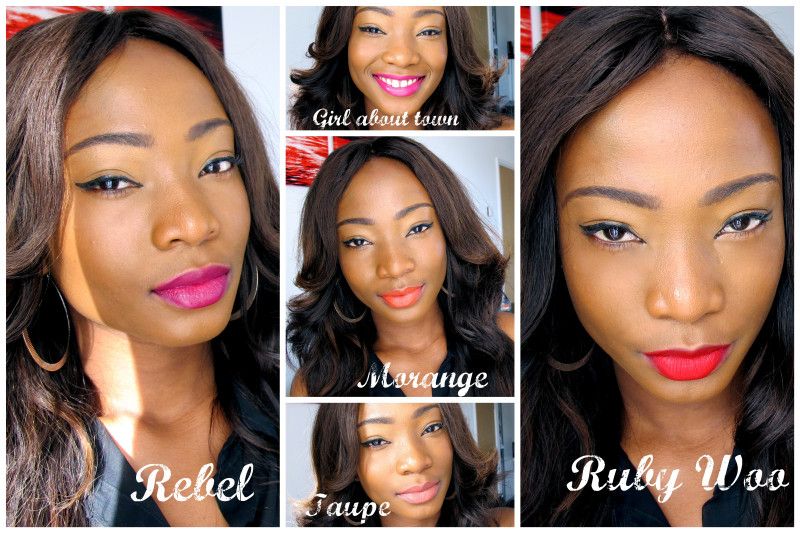 Ruby Woo
This is a rich matte red colour.
I love the fact that its not glossy or shiny in anyway so it really helps to keep your face looking clean and not 'busy'.For example, I wear this to work quite regularly whilst keeping the rest of my face simple. It makes my lips the focal point without making me look like I piled on lots of makeup which you sometimes get with glossy finish lipsticks.
Im also convinced Rihanna has this lipstick, maybe thats why I love it so much lol
Girl about Town
This is more of a creamy glossy finish, I looove the rich fuchsia colour, its definitely a summer staple. I dont wear it as much in the winter but you can definitely darken this up with the help of a dark purple lipliner.
Taupe
You know how people talk about nude lipsticks that arent really
your
nude? well this is certainly my nude colour! I love it! Its also a matte finish but amazingly not drying at all. This is a great colour to use to balance your face if you've got dramatic eyes.
Rebel
This lipstick never fails to make me feel fierce! I love it! Deep purple, creamy, slightly glossy, divine!
Morange
Morange is a lovely bright orange with a creamy finish, its a bit hard to put on, and your lips definitely need to be lined, but its a great colour for darker toned skin
Top Tip
I never actually buy my mac lipsticks, I usually make use of the 'back-to-mac' program where you get a free lipstick when you return 6 empty mac containers back to the store. My friend gave me a bag of 20 or so empties recently so Im having a field day with those! :-D
Hope you enjoyed this post, did you have a favourite?
I also uploaded a video showing the lipsticks in motion, enjoy xoxo
Labels: beauty, girl about town, lipsticks, mac, makeup, morange, rebel, ruby woo, taupe