Spring Lookbook 2 - Boyfriend Jeans

Some might say boyfriend jeans should remain firmly in your other half's wardrobe at the risk of making you look like you are drowning in denim. I beg to differ! Over the past few years a number of high end and affordable brands have come up with incredibly flattering boyfriend jeans for women. I have a few pairs from Asos and Topshop, and trust me, If I could live in them, I would!
Boyfriend jeans are very comfortable and can be very stylish if you find the right pair. I like to wear mine in a way that is not too masculine and filmed a
lookbook
(below) showing how I tend to style my distressed pair from
Asos
.
Top 3 tips for Boyfriend jeans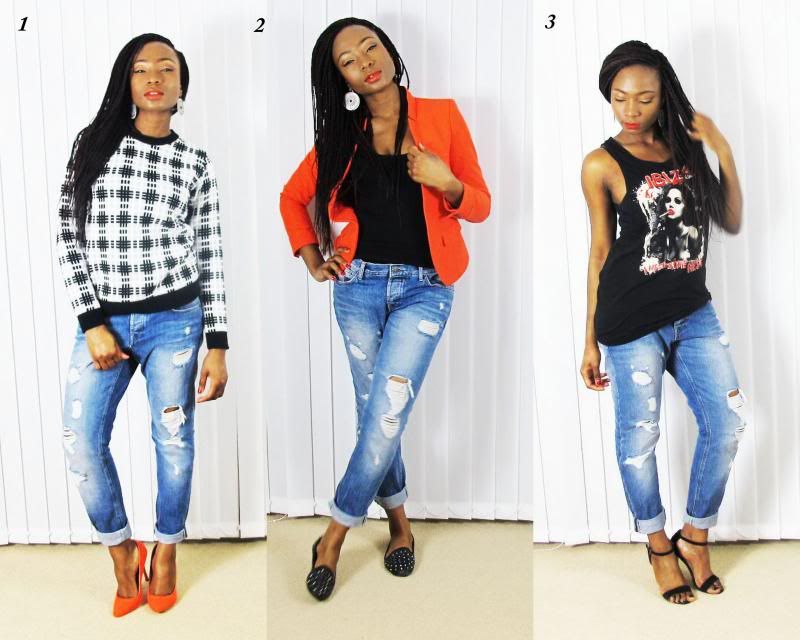 1.
(Grabbing your crotch is completely optional and uncouth lol, but I don't know what possessed me)
I find that heels elongate the legs and bring back the femininity that could be lost with baggy jeans! There is also something about pairing them with my Asos neon court shoes that I love. Maybe its the fact that they are a great way to mix the neon and pointy heels trend as shown in my
how-we-are-rocking-it
post, either way <3
2. Its easy to just go super casual when in boyfriend jeans, however you bear the risk of looking frumpy if not styled right. In the picture below I am only wearing a vest and slip on shoes and that would normally be it. However, just throwing on a blazer smartens up the look so its not too 'I couldn't be bothered to dress up this morning!'
3. You cant get more casual than a T-shirt with jeans, however, slipping into a pair of single strap heels is also a quick way to glam up your boyfriend jeans should you wish.
For styling in motion checkout the
lookbook video
below and let me know if you liked it! :-) Oh and it would be great to hear where your favorite pair of boyfriend jeans are from so I could check them out! It's about time I branch out from my usual high street stores!
xxx
Labels: boyfriend Jeans, fashion, lookbook